10,000 Maniacs Were Right
The dramatic decline of natural gas prices was the focus of our last article (These Are Days to Remember).  As we noted then, in real dollars, natural gas prices were near all-time lows.  Since then, natural gas prices have continued to fall.
Yesterday the November futures contract settled at $2.033 per mmBtu.  The last time the November contract was this low was 17 years ago in 1998, when it closed at $1.97 per mmBtu.
The "winter strip" is the simple average of natural gas futures prices for the five month period of November, December, January, February, and March.  These five months represent the winter heating season, when demand for natural gas is historically the greatest and natural gas prices, correspondingly, are generally highest.
With the rolling off of the November contract yesterday, the 2015/2016 winter strip closed out at $2.349 per mmBtu.

The graph below puts this into perspective by comparing the current winter strip (in red) to that of previous winters.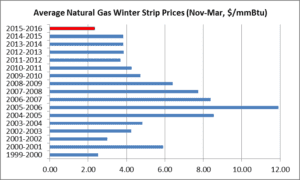 Incredible.  These are days to remember.
Evelyn Teel contributed to this article.
The Avalon Advantage – Visit our website at www.AvalonEnergy.US, call us at 888-484-8096, or email us at jmcdonnell@avalonenergy.us.  Please feel free to share this article.  If you do, please email or post the web link.  Unauthorized copying, retransmission, or republication is prohibited.  Copyright 2015 by Avalon Energy® Services LLC