INDEPENDENT. OBJECTIVE. EXPERIENCED.
There is no one-size-fits-all solution when it comes to energy management, and energy options can be complicated – but they don't have to be. Avalon Energy Services enhances your knowledge and gives you the power to manage energy on your terms.
Energy can be one of an organization's most significant expenses, with not only financial but also environmental and social implications. We provide commercial, industrial, institutional, and government clients a complete set of services that will keep them running efficiently and saving money on their energy bills. Whether you are interested in energy procurement, an energy efficiency audit, a sustainability study, benchmarking, developing onsite generation or developing a custom energy management strategy, we make sure you can achieve energy on your terms.
Why Avalon Energy Services?
Independent
thinkers who look at your situation to identify measures that fit your needs.
Objective
solutions customized to your needs and project.
Experienced
professionals putting their expertise to work for you.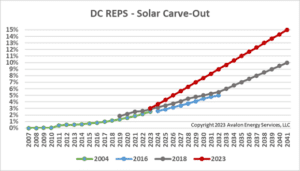 District of Columbia Solar Carve-Out Background Late last year, the DC Council passed The Local ...