Natural Gas Market Update, June 2018
Natural gas prices remain low and below their declining 21-year trend.  See graph below.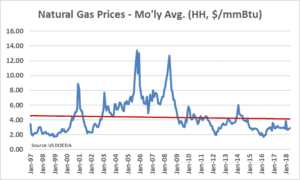 The prices presented here are for delivery at the Henry Hub in Southern Louisiana.  Natural gas prices in other producing areas of the US, such as Northeastern Pennsylvania, the Permian Basin, and the Williston Basin, are significantly lower.  The prices here are also in nominal dollars.  If plotted in real dollars, the downward trend would be even more pronounced (see These are Days to Remember).
Despite the current low price environment, there are a number of factors putting upward pressure on natural gas prices, including:
Increasing liquified natural gas (LNG) exports

Cheniere Sabine Pass trains 1-4 online
Cove Point terminal on the Chesapeake Bay ramping up
11 additional liquification trains along the Gulf Coast in the works to come online in the next five years

Increasing pipeline exports to Mexico

Up more than 300% since the Great Recession

Increased industrial demand

Particularly in the petrochemical industry

Increased demand for natural gas-fired electricity generation
Natural gas storage levels down

Currently 25% below five-year average at this time of year
Given these influences, how do natural gas prices look in the futures market?  Low and continuing their decline.  See the graph below.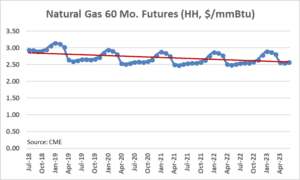 After peaking at $3.16/mmBtu during the winter of 2018/2019, natural gas prices remain below $3/mmBtu for the remainder of the 60-month forward period.
What is driving this?
Supply.  More specifically, dramatically increasing supply.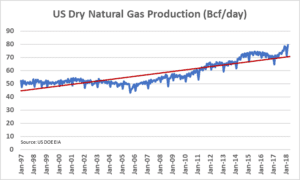 Natural gas production is up 7 Bcf/day from this time last year to 79 Bcf/day.  The US Energy Information Administration (EIA) projects US natural gas production will reach 83 Bcf/day by December 2018.
To see how much things have changed, read these older natural gas market updates:
Natural Gas Market Update October 2014
Natural Gas Market Update November 2013
Natural Gas Prices – Time to Hit the Panic Button?
Natural Gas Price – Looking Ahead January 2012
Natural Gas Price Drivers (January 2012)
As a result, natural gas (and electricity prices) are currently attractive—making this a good time to consider locking in your supply needs.
Note:  Evelyn Teel contributed to this article.
The Avalon Advantage – Visit our website at www.avalonenergy.us, call us at 888-484-8096, or email us at info@avalonenergy.us.
Please feel free to share this article.  If you do, please email or post the web link.  Unauthorized copying, retransmission, or republication is prohibited.
Copyright 2018 by Avalon Energy® Services LLC