By Ana Rasmussen, Intern
Since the shale boom began in earnest during 2008, natural gas prices in the US wholesale market have fallen dramatically. Prices have hovered within the 2 to 6 dollar per million Btu (mmBtu) range over the last few years, with the prompt month NYMEX natural gas contract trading at a remarkably low $1.70 mmbtu today. As we have been reporting for some time, wholesale electricity prices have also experienced a similarly dramatic decline, although that relationship has been weakening in recent months (see Natural Gas and Electricity Are Parting Ways – Part 1 and Natural Gas and Electricity Are Parting Ways – Part 2).  Given the decline in wholesale electricity prices, many of our readers have asked us why they have not seen a similar decline in their home electricity bills.
To answer this question we examined electric utility bills from a typical Maryland residence from the last 10 years and broken down the different charges included in the total cost. First, if you single out generation and transmission (G&T) charges during this time period, you can see in the graph below that they have been more or less in decline since the end of 2008. G&T charges represent the costs of producing electricity and of moving high voltage electricity from generation facilities to distribution lines.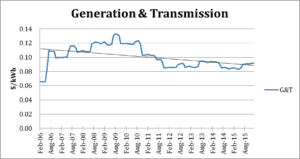 However, this does not give us the whole picture. Our electricity bills are not only based on G&T, but distribution costs as well. As you can see below, while generation and transmission have been declining, distribution charges have actually been rising. Distribution charges include the costs of maintaining, expanding and improving the electric system to deliver electricity from high voltage transmission system to customers, homes and businesses, as well as the utility's depreciation expense and return on rate base.  Other components of distribution costs include, but are not limited to, grid resiliency, environmental surcharges and county energy taxes.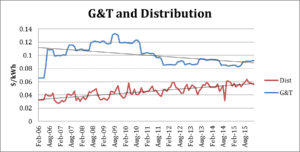 Ultimately, simultaneously falling G&T charges and rising distribution charges are to blame for the lack of change in our electric utility bills at home, even with wholesale prices so low. In the final graph you can see the total utility bill charges have remained relatively stable as a result of this gradual cost shift from G&T to distribution over the last few years.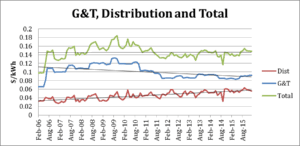 The Avalon Advantage – Visit our website at www.AvalonEnergy.US, call us at 888-484-8096, or email us at jmcdonnell@avalonenergy.us.  Please feel free to share this article.  If you do, please email or post the web link.  Unauthorized copying, retransmission, or republication is prohibited.  Copyright 2016 by Avalon Energy® Services LLC.