Maryland Renewable Energy Portfolio Standard (RPS) – Veto Override
Last week, the Maryland House and Senate voted to override Governor Larry Hogan's 2016 veto of the 2016 Clean Energy Jobs bill.  As a result, Maryland's Renewable Energy Portfolio Standard (RPS) will increase from 20% in 2022 to 25% in 2020.  The graph below shows the effect of the original RPS rule in blue overlaid with the newly amended rule in red.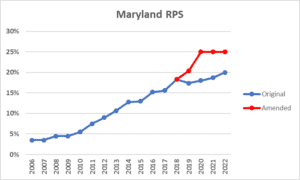 Maryland's solar "carve out" will increase as well as shown below.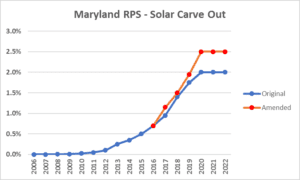 Regulatory guidance is that customers with executed retail electric contracts in place prior to the effective date of the override are grandfathered from the additional RPS costs until the expiration of the grandfathered contract.
This is a good time to consider extending your electricity supply contracts to year 2021.
The Avalon Advantage – Visit our website at www.AvalonEnergy.US, email us at info@avalonenergy.us, or call us at 888-484-8096.
Please feel free to share this article.  If you do, please email or post the web link.  Unauthorized copying, retransmission, or republication is prohibited.
Copyright 2017 by Avalon Energy® Services LLC