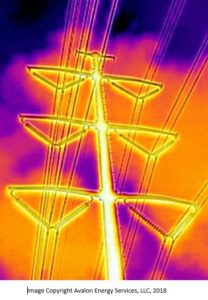 For several years, the U.S. Geological Survey (USGS) has been investigating the potential effects of intense geomagnetic storms on electric utility infrastructure.  In 2016 they concluded,
"A severe geomagnetic storm could disrupt the nation's power grid for months, potentially leading to widespread blackouts.  Resulting damage and disruption from such an event could cost more than $1 trillion, with a full recovery time taking months to years." (1)
Bloomberg recently noted that in an upcoming report, the USGS more specifically identifies a stretch of the Interstate 95 corridor as particularly at risk of power outages related to geomagnetic storms.
This corridor is largely underlain by Paleozoic (very old) crystalline rock that acts as an insulator, reflecting back incoming energy from the sun, thus giving that energy a second chance to damage utility infrastructure.  Damaged electrical infrastructure, particularly utility transformers, can take many months to replace.
"Through a stroke of bad luck, the worst of these rocks basically traces the path of I-95 from Richmond, Virginia, to Portland, Maine, passing through Washington, New York and Boston along the way." (2)
Putting aside for the moment the notion that rocks can be inherently good or bad, concerning how this connection between electricity and rocks may impact the electric grid, solutions are not simple.  Some may look to off-grid self-generation and battery storage for protection.  But, if a geomagnetic storm is strong enough to impact the grid, it also may impact the electric infrastructure at individual customers' sites.
Faraday cages are a potential solution.  Faraday cages also may provide protection against EMPs (electromagnetic pulses).  More on this in the weeks ahead.
References:
Evelyn Teel, Ralph Russell and Jeff Dowdell contributed to this article.
The Avalon Advantage – Visit our website at www.AvalonEnergy.US, email us at info@avalonenergy.us, or call us at 888-484-8096.
Please feel free to share this article.  If you do, please email or post the web link.  Unauthorized copying, retransmission, or republication is prohibited.
Copyright 2018 by Avalon Energy® Services LLC