Los Angeles is an urban oilfield.  Within its limits are more than 50 oil fields, 3,000 active oil wells, and numerous tar pits (actually asphalt seeps).  During the 1920s, a quarter of the world's crude oil production came from California, and the Los Angeles Basin was responsible for a large portion of that production.  It continues to be a major production area today.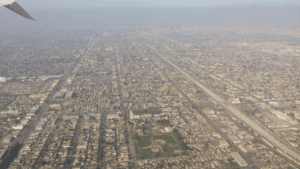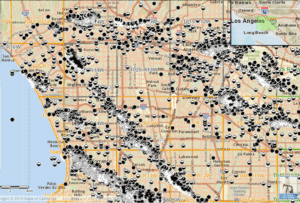 Inglewood Oil Field
One of LA's oil fields, the Inglewood Oil Field, is located in the Baldwin Hills area and covers a thousand acres.  Oil was first discovered in the field in 1924.  Since then, more than a thousand wells have been drilled and it has produced over 400 million barrels of oil.  According to the field's largest operator, Freeport McMoRan Oil and Gas, the field now produces between 2.5 to 3 million barrels a year.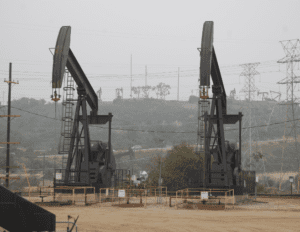 Crude oil in the field is trapped in a series of anticlinal structures that express themselves on the surface as hills – thus the name Baldwin Hills.  Below the surface, oil wells in the field produce from six producing horizons.  Below is a cross-section of the field.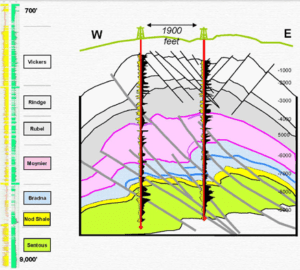 Here's what the Inglewood Oil Field looks like from above: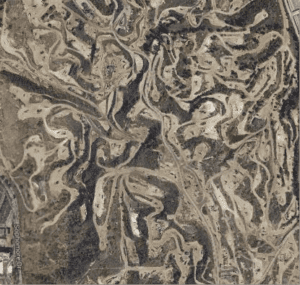 Flower Tower
Oil production facilities in the LA Basin are often hidden in plain sight.  The photos below are of Venoco's "flower tower" production facility at 9865 Olympic Blvd., on the campus of Beverly Hills High School.  Inside is a rig that services 18 deviated wells that draw crude from the Beverly Hills Oil Field.  In exchange, the high school receives royalties that, reportedly, cover most of its teachers' salaries.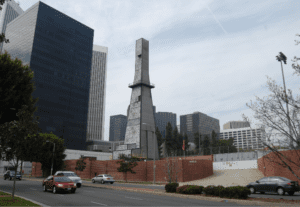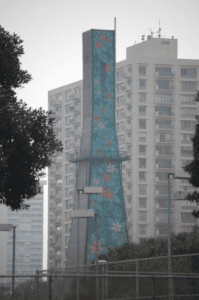 Tar Pits
Also found within the Los Angeles Basin are numerous tar pits or, more accurately, asphalt seeps.  During the formation of the LA Basin, immense quantities of organic-rich sediment were buried that, over time, decomposed and accumulated as hydrocarbon deposits.  Liquid (crude oil) and gaseous (natural gas) hydrocarbons are lighter than interstitial formation water.  The resulting buoyancy causes these hydrocarbons to migrate upwards where a porous medium or migration path exists.
Hydrocarbons often become trapped in anticlinal structures that are overlain by a non-permeable barrier such as shale.  The Inglewood Oil Field is an example of this.  A small portion of the hydrocarbons may continue to migrate upwards, reaching the Earth's surface along faults.  As liquid hydrocarbons migrate upwards, they lose their volatile components and slowly convert to asphalt.
When the volatile components reach the surface they dissipate into the atmosphere.  The City of Los Angeles has designated a number of "methane zones." Structures within these zones must be properly ventilated in order to prevent the accumulation of methane.
Asphalt that reaches the surface oozes out and accumulates in low-lying areas.  Living creatures that find their way into the asphalt may become stuck and die, and they are often then preserved for future ranchers, farmers, and scientists to uncover as fossils.  Fossil finds in these asphalt seeps are common.  These seeps are the surface expression of the hydrocarbon reserves below the surface and in fact, the first oil wells in Los Angeles were drilled near asphalt seeps.  The most famous asphalt seeps are the La Brea Tar Pits on Wilshire Boulevard, minutes from Hollywood Boulevard and Rodeo Drive.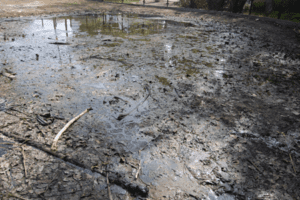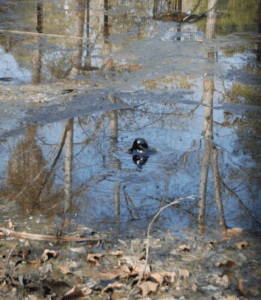 The Avalon Advantage – Visit our website at www.avalonenergy.us, call us at 888-484-8096, or email us at jmcdonnell@avalonenergy.us.
Notes:
Map of oil wells from the California Department of Conservation.
Inglewood Oil Field cross-section from PXP investor presentation, June 2005.
Satellite image from Google Earth.
Photos taken personally.
Please feel free to share this article.  If you do, please email or post the web link.  Unauthorized copying, retransmission, or republication is prohibited.
Copyright 2015 by Avalon Energy® Services LLC