Crude Oil and Natural Gas Get a Divorce
As discussed previously on this blog, natural gas and electricity prices in the wholesale markets have declined precipitously (click here for more information). What is more obvious, certainly at the gasoline pump, is that crude oil prices, unlike natural gas prices, have been on an upward trend.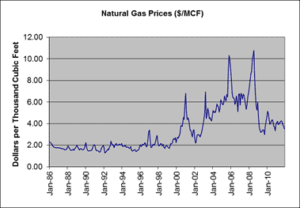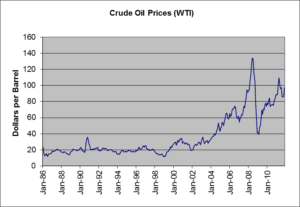 The above graphs show (i) the monthly average spot price history of natural gas at the Henry Hub in Southern Louisiana and (ii) crude oil prices, or more specifically, prices of West Texas Intermediate (WTI) at Cushing, Oklahoma. Prices are shown dating back to January 1986 and through October 2011. Natural gas prices and crude oil prices both hit a peak during the summer of 2008 and then dropped dramatically as the economy went into recession. Natural gas prices have remained low. Crude oil prices recovered.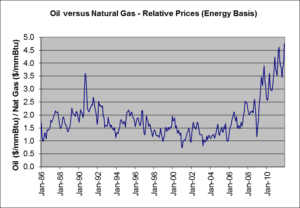 Natural gas prices and crude oil prices have become decoupled. Historically, on an energy equivalent basis, crude oil used to trade at about a 50% premium to natural gas, reflecting crude oil's greater energy density, portability, and flexibility. More recently, that premium has increased to more than 300% or more (see graph above). Thought of another way, natural gas is trading at a more than a 75% discount to crude oil.
As of this writing, natural gas is trading at $3.32 per thousand cubic feet (MCF) and crude oil at $99.41 per barrel; crude oil is trading at a 400% premium to natural gas on an energy equivalent basis.
Why the divergence? Crude oil prices are driven by influences in the world energy market, the largest being growing demand in developing countries. US natural gas prices are driven by factors specific to the integrated North American natural gas markets.
Note: These prices are in nominal dollars and have not been adjusted for inflation.
The Avalon Advantage – Visit our website at www.avalonenergy.us, call us at 888-484-8096 or email us at jmcdonnell@avalonenergy.us
Copyright 2011 by Avalon Energy® Services LLC